Leave your big game trophy in the hand of an artist who truly knows and respects the animal you harvested.

Allan and Denise are professionally trained taxidermists, using the most current techniques available. They offer a full range of taxidermy services including head mounts, life size animals, birds, freeze-drying service and fish taxidermy.

Attention to detail is given to every mount. Quality workmanship and a realistic mount are the results. Both Allan and Denise are wildlife enthusiasts and their love of wildlife and nature is evident in their work.

Knife Creek Taxidermy has been shipping mounts worldwide for ten years. We have never failed to deliver a mount.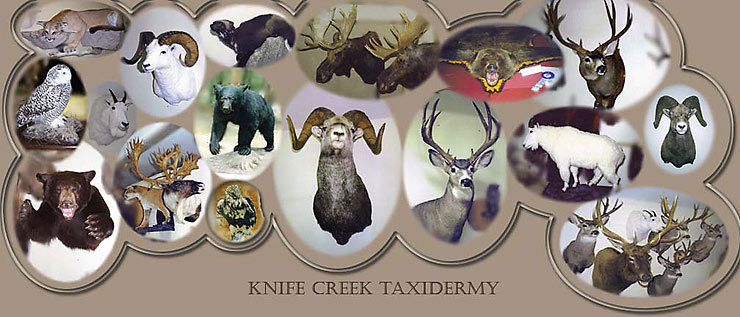 As licensed fur traders we can provide furs from trappers for specialty mounts that cannot be obtained with a big game license.

All transactions with Knife Creek Taxidermy are legal and all paperwork and necessary government permits, including CITES, will be obtained on the client's behalf.