Spring Bear Hunts
"I've hunted with dozens of Canadian outfitters and Al Tew is right at the top of the list. He's honest, has enthusiasm, integrity and plenty of quality game. I intend to hunt with him as much as I can "
- Jim Zumbo, Editor, Outdoor Life

I've been bowhunting for less than ten years. I've had little experience with outfitters but I think I chose a winner with Allan and Denise Tew and Chilanko Forks Outfitters! I chose a 2007 Black Bear hunt with Allan and, as you can see by the picture above, I had a very successful hunt! My beautiful cinnamon-phase black bear was the result of my second stalk of the day...the very first day of my hunt. After stalking a smaller Black earlier in the day, Allan decided we should hunt elsewhere that evening. However, he "had a feeling" that we should return to the same meadow...and I was so glad!!! My cinnamon measured 18 7/16 P & Y inches and was 6 feet, 4 inches from nose to tail. Not bad for a first bear!! Allan works hard and provides good accommodations for his hunters, male or female. Allan's experiences as a bowhunter, his knowledge of his area and his instincts, make a hard-to-beat combination! A great hunt, combined with the gorgeous B.C. scenery, makes me want to return soon! - Cheryl Earhart

| | |
| --- | --- |
| Jim Zumbo | Cheryl Earhart |

This is a great hunt for excellent bears. The days are long and there are bears of all colours and sizes. The main method for hunting these big bruins is "spot and stalk".

Allan has had great success this way and nothing is more exciting than harvesting a bear by this method. We hunt rifle or bow on approximately 3,700 square miles of area, in central British Columbia, Canada, giving us plenty of habitat to find bears. We like to keep our groups small, booking four hunters at a time, but will make exceptions for larger groups, if requested by the hunters. Bowhunters can arrange to have a bowhunting-only camp.

Hunts are based on two hunters to one guide. One-on-one hunts or longer hunts are available. Please contact us to discuss your options.

Spring Season
Black Bear: 7 day hunt. 1 day in/out, 5 days hunting. Season runs May 1 - June 30.

Fall Season
Black Bear: 7 day hunt. 1 day in/out, 5 days hunting. Hunters are encouraged to carry a mule deer tag as well.


Mule Deer Hunts
Early hunts for mule deer bucks run September 1 - October 31. Late hunts run November 1-10. We consider this a trophy hunt, with the opportunity to harvest heavy-antlered bucks, with scores ranging from 130 to 190 Boone & Crockett.
Our hunts are 7 days: 1 day in/out, 5 days hunting


Cougar Hunts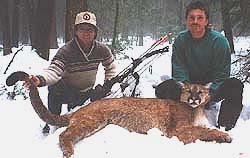 Cougar hunts are available December 1 through March 31.






Moose Hunts
There are lots of moose but only a limited number of spots available, so book early. Our moose average 40" to 45" but there's always a chance to encounter a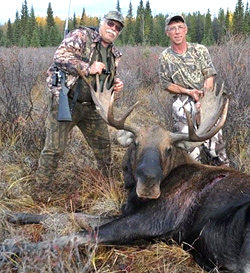 big one, like the one on our Home page, taken by our good friend Tim Fair in 2003, which measured 56 inches.
Moose hunts are done on horseback. Our main camp is situated in prime moose habitat, surrounded by chains of meadows and swamps in every direction. Most of our moose have been taken within a couple of hours ride from camp. During the pre-rut and the rut, hunts can be incredibly exciting when the bulls answer to the call.
"I've hunted with Al Tew several times. As my guide, he led me to the first seven-foot black bear of my life, and two nice bull moose. Al outfits in game rich country and provides a comfortable camp with good food and accommodations. I wouldn't hesitate to hunt with him again." - Jim Zumbo
This is a 7-day Moose hunt (1 day in/out - 5 days hunting)

Mountain Caribou Hunts
We head for the high country for caribou. Hunting in spectacular country for these majestic animals is something all hunters should experience.
Early in September, these caribou can be found in smaller groups through out the mazes of swamps, natural meadows and spruce and pine forests. Later in September these smaller groups start to band up into larger herds as the rut period approaches.
Cooler, unsettled weather should be expected. Brief, severe winter storms are not uncommon at this time of the year.
This hunt is done entirely on horse or on foot. A minimum of 8 - 10 days hunting should be considered for this trip.

Wolves inhabit the area and are occasionally encountered. A hunter may purchase a wolf tag (cost $40 U.S.) and is welcome to harvest a wolf at no additional charge, if the opportunity arises.


All hunts include accommodations, meals and transportation to and from the nearest airport. Taxes and licenses and tags are extra.
Hunters can book flights to Williams Lake, BC, where they will be picked up and driven to one of our camps, a two or three hours drive from Williams Lake. Or they can drive, the trip taking approximately nine hours from the Blaine, Washington border. MAP

TROPHY CARE
All trophies are skinned, salted and dried on the hunt and will be in top condition for the taxidermist. Allan is a talented taxidermist, operating Knife Creek Taxidermy and would be proud to look after your trophy or prepare it for you to take home to your own taxidermist. We would be happy to obtain all necessary export permits on your behalf.

I have hunted with Allan and Denise four times (3 for moose and once for bear) and have had successful and enjoyable hunts each time. I am a bowhunter only and have taken one bull Moose and one Black Bear. I have had shot opportunities on Moose each year but only one bull came home with me - my shortcomings, not Allan's! Last year (2007) was the first time to try Bear hunting and I scored on a 6 foot P&Y Blackie! I had four stalking opportunities total. We were on one bruin that we guessed at 7 foot and maybe a 20 inch skull. The closest I could get was 54 yards. I hesitate telling about that bear as I am returning in 2009 to see if I can find him again. I would hate to think that someone else might beat me to him. If Allan has one fault at all it would be that he is too friendly with his hunters and they all tend to become friends! Allan and Denise are good hard-working people and they will do their best to provide you with a quality hunt and memories of a lifetime. - Tim Donnelly: